COLLEGE OF
GRADUATE STUDIES & RESEARCH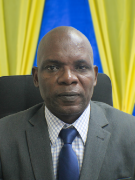 DR. TOM AMONDE
SENIOR DIRECTOR, COLLEGE OF GRADUATE STUDIES & RESEARCH
---
Welcome Message
Welcome to the College of Graduate Studies & Research page on the University of the Commonwealth Caribbean's website.  We invite you to explore information which provides higher education options for business professionals and industry leaders. As the dynamics in the labour market change, UCC Graduate Studies offers tremendous opportunities to foster the continuous development of your career in preparation for an exciting future.
The College of Graduate Studies & Research is the provider of quality post-graduate education in leadership, management and public administration at the University of the Commonwealth Caribbean (UCC).  The mission of the College of Graduate Studies & Research is to serve, teach and research in order to improve the quality of business, social, public and organisational leadership and performance.  Through our internationally-recognised and accredited graduate programmes, UCC is committed to meeting the social and professional demands for higher education at the postgraduate level in Jamaica and the Caribbean region.  Partnering with international entities such as the Commonwealth of Learning and the Florida International University to offer cutting-edge world-class graduate programmes, UCC is contributing to national and regional development by enhancing the professional growth and careers of our nation's citizens, by developing human resources in various fields, and by offering quality post-graduate programmes that can be implemented locally and globally.
Understanding the constraints of the busy, working professional, UCC's College of Graduate Studies & Research is focused on creating opportunities for workers in the public and private sectors to obtain graduate degrees on schedules that minimise disruption of work and personal pursuits. The current programme offerings are each delivered by highly experienced and qualified practitioner-facilitators within a cohort class structure via a variety of modalities and schedule choices – face-to-face, fully online or blended/hybrid options on weekends and evenings.  Programme lengths vary between 12 and 24 months, and during this period, participants will gain a wide range of new skills and sharpen their analytical abilities by linking their coursework activities with their day-to-day professional experience.  A team approach is often used to allow for the sharing of diverse perspectives on various topics; this interaction results in a challenging, stimulating learning experience that provides for maximum return on time and resources invested.
---



All Programmes »