Message from the President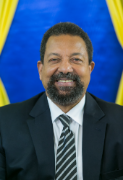 April 1, 2020 - The deadly Coronavirus continues to affect every region of the world, and each Jamaican resident is now doubtless quite aware of the need to protect ourselves by frequently and thoroughly washing our hands, while avoiding touching our faces, and maintaining social distancing, following the Government's guidelines.
It is our hope at the University of the Commonwealth Caribbean (UCC) that all Jamaican residents will take the steps necessary to remain safe and healthy, or if affected, will be able to recover, while helping to break the chain of transmission.
Meanwhile, be assured that notwithstanding this pandemic, UCC continues to implement our mission of providing an excellent educational experience to all of its students, whether current or prospective, while offering all of the academic advising, mentoring and support needed to facilitate teaching, learning and student success.
---
Professor Dennis J. Gayle
University President/Executive Chancellor
UCC Foundation Board Chairman
University of the Commonwealth Caribbean