STUDENT COUNCIL NOMINATIONS OPEN
Dear UCC Students, 
It's time for you to elect your new Student Council Body 2020/2021. We have extended the nomination period to July 15. If you have already submitted a nomination form and wish to still be a part of the candidate list please indicate by sending an email to the returning officer Ms. Shevel Hylton at shevel@stu.ucc.edu.jm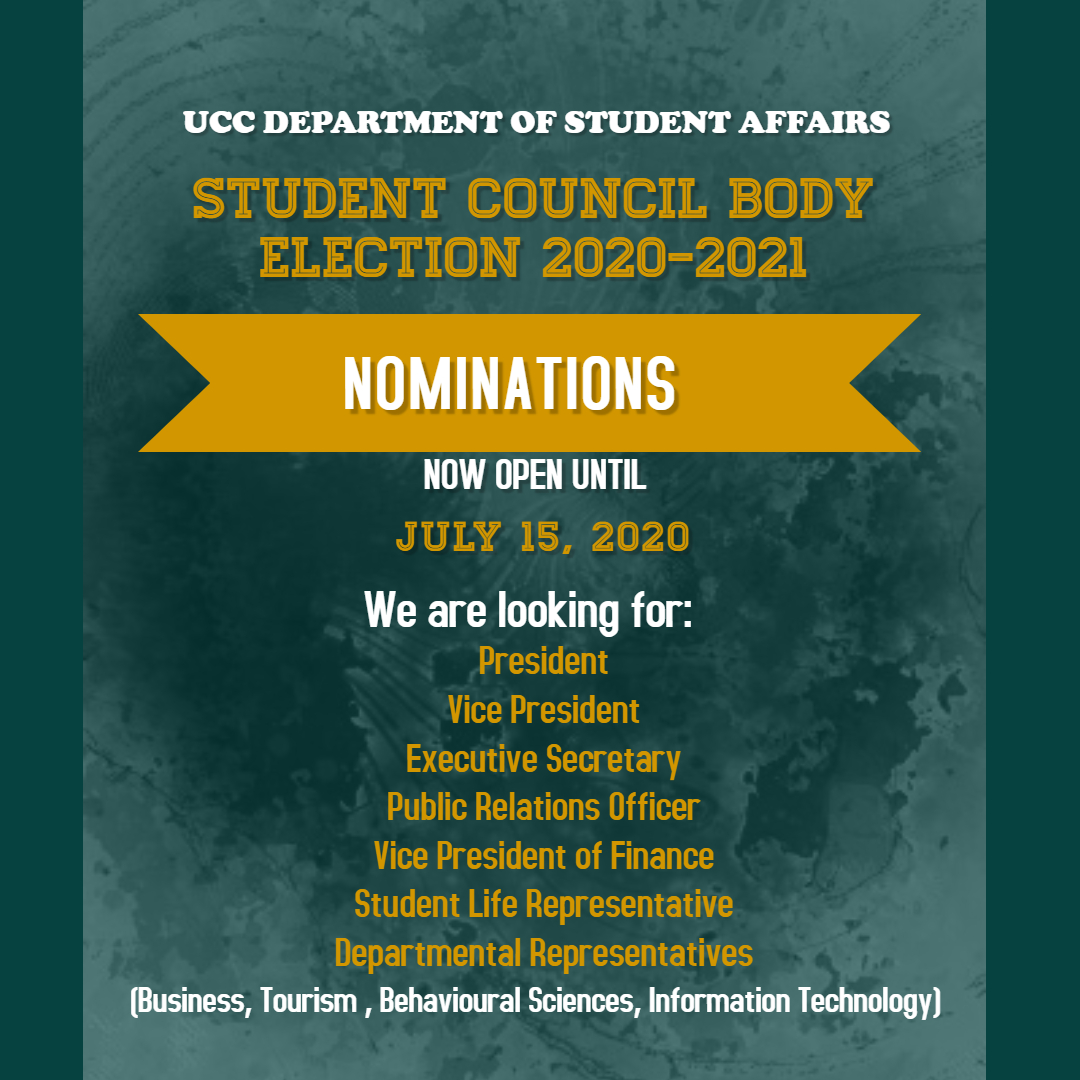 Please see other important dates related to the election campaign:
Online Campaign starts July 17thth – to July 29th , 2020
(Presidential Debate & Townhall Thursday July 30th, 2020)
Online Voting: July 31, 2020
Official Results Published: August 3, 2020
Inauguration Ceremony & Newly Elected Council takes Office August 10
Instructions for Student Council Candidates:
1. All candidates MUST have and maintain a G.P.A. of 3.0 or above.
2. All candidates MUST have completed at least one (1) semester of study at UCC.
3. All candidates should be in good financial standing with the UCC.
4. All candidates should be registered students for the semester in which the nomination is opened.
5. All candidates should have a minimum of ten (10) registered students nominating them.
6. All candidates MUST ensure that their nomination form has the names and signatures of two (2) UCC  lecturers.
7. All candidates MUST scan and email their completed nomination forms to the Returning Officer on or before the final day of nomination by 12:00 midnight.
Send all nomination forms to shevel@stu.ucc.edu.jm 
What are you waiting for????? The Student Council Nomination Form is attached. Let the Nominations Begin!
---
DEPARTMENT OF STUDENT AFFAIRS UPDATES
Published on

July 28, 2020

Published on

July 27, 2020

Published on

July 24, 2020

Published on

July 21, 2020

Published on

July 13, 2020

Published on

July 10, 2020

Published on

July 9, 2020