WELCOME TO UCCTV!
Watch live and recorded class sessions from our new INTEGRATED SIXTH FORM PATHWAY SCHOLRSHIP PROGRAMME on our UCC TV channel when you purchase a READYTV box!
Students who wish to access the digital UCC TV Channel 103 on the Ready TV digital platform will no longer attract a separate one-time cost of $4,500. Effective immediately, the boxes will now be available to ALL K-13 students in the UCC Academy and the UCC as an integral part of the virtual delivery of classes. The one-time cost of the boxes will now be covered under the miscellaneous fees paid by students for the two (2) year programme.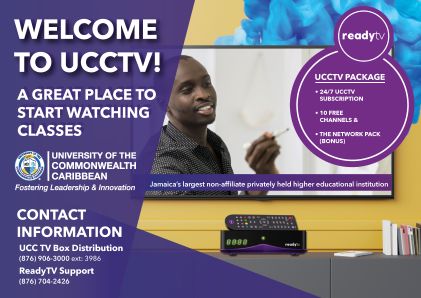 How UCC TV Works?
Purchase your Set-top-Box today and revolutionise your educational experience!