Partnerships Division
Licensing, Validation, Joint Ventures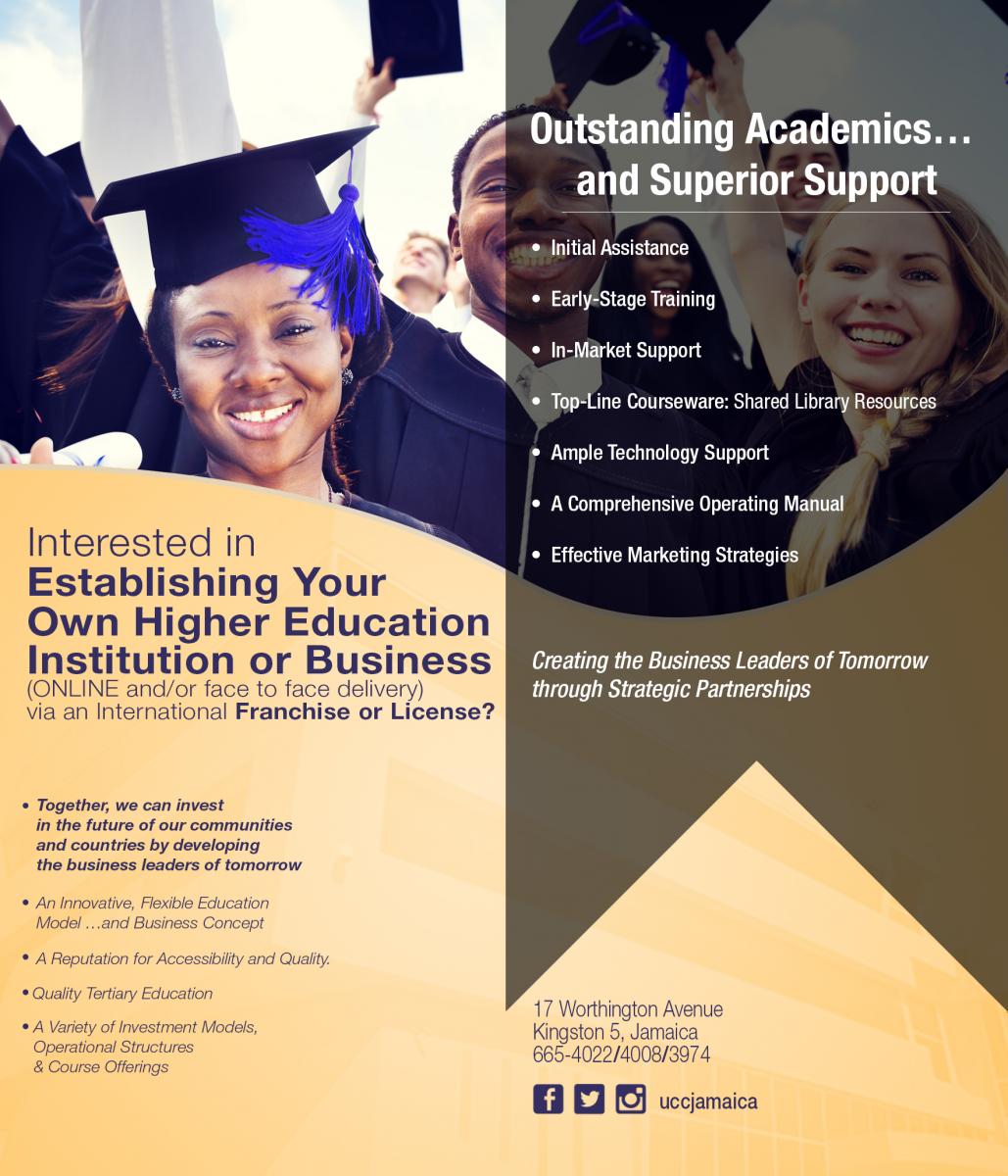 Contact Us
Become a UCC Partner
In keeping with its mission and vision, the University of the Commonwealth Caribbean (UCC) is now seeking to expand its role in establishing high-caliber partnership activities, within the Caribbean, and across the 52 nations of the Commonwealth of Nations, for the purposes of collaborative education provision.
UCC is interested in collaborating with partners who demonstrate our shared values, including integrity, transparency, and highest levels of professionalism.  
Students in any country, especially within the Commonwealth of Nations, may be able to study for a recognized or accredited University of the Commonwealth Caribbean undergraduate or graduate degree within their home country.   
In the interests of quality assurance and enhancement, students are subject to the same regulations and policies as those who are studying on UCC's campuses throughout Jamaica, and will be assured of the same excellent teaching and learning processes. The main types of collaborative education provision include:
​​Licenses/Franchises
A programme initially developed and accredited or validated for delivery at the UCC, and subsequently delivered at a partner institution for a UCC award.  Franchised programmes may be allowed limited, approved modifications, accepted by the University as reflecting the local context of the collaborating institution;
Validated
An academic programme developed by a collaborating institution, and approved by the UCC to be delivered in that institution for a University of the Commonwealth Caribbean award.  In both cases, programme delivery is normally done by the collaborating institution staff.
Joint Ventures
The University of the Commonwealth Caribbean and its institutional partners share investment in and ownership of the relevant campus locations.
The University also provides partners with hardware, software and hard-copy information relating to the various processes and functions involved in a successful collaboration, through the UCC Operations Manual, inter alia.
Partner Resources ​
The University of the Commonwealth Caribbean offers a variety of collaborative education provision resources to partner institutions. These resources include proprietary documentation and activities such as:
Academic Programs
Academic Policy Manuals
UCC Operations Manual
Standard Operating Procedures
Initial On-Site Start-Up Assistance and Training
Ongoing Site Visits, Support and Training
Document Templates​
Library/e-Resources Access
Learning and Teaching Development Unit resources 
Student Teaching/Learning Support and Aid
Recruitment and Marketing Assistance
UCC Group Advertising and Marketing
Contact Centre/Telemarketing Support via GKPS UCC Group Subsidiary
Technology Support
Student Management System (SMS) Support (Aerion)
Learning Management System (LMS) Support (Moodle)
Document Management System Support (OnBase)
Franchise Advisory Council Support
Become a Collaborative Education Provision Partner
If you are looking for an internationally accredited private university (the largest private, non-affiliated in the Caribbean) with an entrepreneurial, innovative, flexible and responsive approach to program design, validation and delivery, then we at the UCC Partnerships Division would be delighted to hear from you.  

Contact Us