UCC Celebrates Women's History Month 2023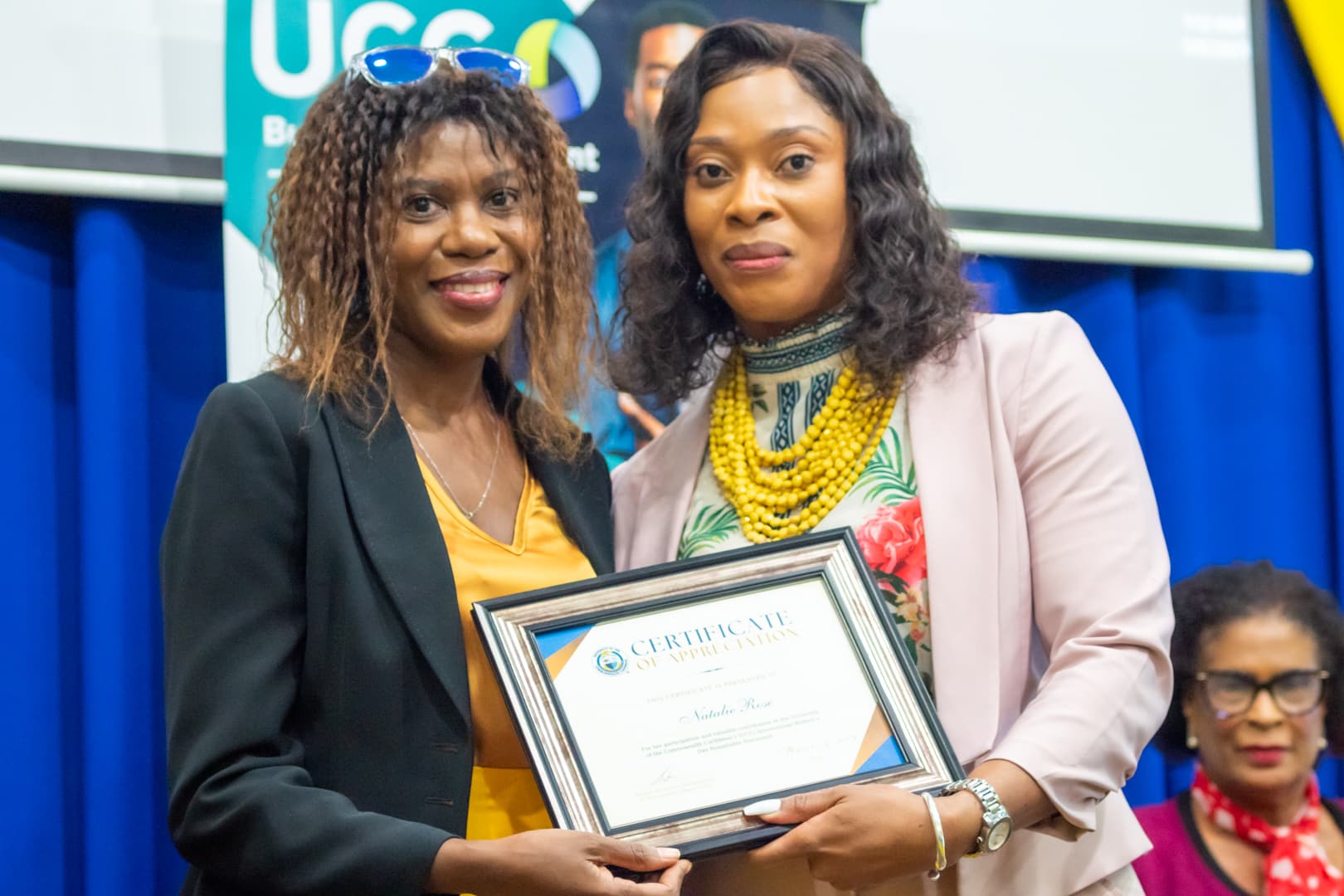 The University of the Commonwealth Caribbean (UCC) has hosted a series of activities and will roll out several features acknowledging women in the community as part of their International Women's Day 2023 and Women's History Month (WHM) celebrations.
IWD2023 Message
Professor Bernadette Warner, Executive Vice President for Institutional Effectiveness and Institutional Research at UCC delivered the official message for International Women' Day. In her presentation Professor Warner first acknowledged women around the world who have taken a "bold stand despite the often overwhelming odds against them" such as Anielle Franco, Minister for Racial Equality in Brazil's new government,  who was "catalyzed to act by the murder of her sister" and Iranian Journalist Masih Alinejad, who "fled to the USA in 2009, after exposing corruption in her home country, and who remains actively defiant."
Professor Warner expressed a need for " more inclusive high-quality primary, secondary and tertiary education, for women and girls and boys and menreiterating that education is "the most powerful tool that the Government of every country can use to counter inequality, promote social mobility, and widen opportunities."
Further, she highlighted how UCC is investing in technology to ensure access to education, providing students with opportunities to be exposed to tech through academic and community based programmes thus creating more opportunities for women and girls to get involved in tech spaces.
Watch Professor Warner's presentation below. 
---
IWD2023 Roundtable Talk
On March 8th, the Human Resource Management and Development Department hosted an all-woman Roundtable Talk under the theme "Innovation, technology and education for achieving gender equality." 
An initiative of the Human Resource Management and Development Department, the forum sought to engag UCC staff, students, faculty and the public in a discussion on how as stakeholders, we can use technology and education to bring about economic and social equality.
The forum featured special guests speakers who are themselves accomplished women in tech such as Ingrid Riley, award winning tech entrepreneur and Founder of Kingston Beta the first, biggest and longest running tech events brand in the Caribbean, Natalie Rose, Head of the Department for Information Technology at UCC, award winning Mobile App Developer and Founder & President of the Jamaican Chapter of The Internet Society (ISOC) and Melrose Reid, veteran Attorney-at-Law at Melrose G. Reid & Associates.
Watch replay of UCC's IWD2023 Roundtable Talk below.
---
Women's History Month Features
Though not as universally celebrated or popular as IWD, Women's History Month is an established and long standing calendar event  specifically to recognize the contributions women have made to nation building. 
At UCC we are committed to the continuous elevation of women and so we are taking this opportuity to tell the inspiring stories of accomplished women in the UCC community who have contributed to the institution's growth.
In our first UCC WHM Feature, we spotlight Dr. Leleith Donald-Tomlinson, Acting Principal of the UCC Academy. 
Before impacting young lives at the UCC Academy, Dr. Donald-Tomlinson worked at GraceKennedy Money Services for over 23 years. During that time, she worked her way up from summer intern to regional training and quality manager, overseeing employee training in Jamaica, the Caribbean, and North America.
Dr. T, as she is affectionately called by staff and students, is also a Justice of the Peace and pastor at the Lighthouse Assembly Church.
She is very engaged in civic duties, working alongside several NGOs to provide guidance and counseling for inner-city youths, especially throughout the communities of Spanish Town and its environs.
Watch to learn more about Dr. Donald-Tomlinson.
---
Our Commitent
We are mindful that as a higher education institution, it is important that we #EmbraceEquity, which means making space for the girls and women in our community to develop into innovative leaders and nation builders.
This Women's History Month we commit to redoubling to work even harder to improve access to educational opportunities, especially in STEM, so that there are fewer barriers to self-actualization for Jamaican women.
---
Date Published: March 15, 2023