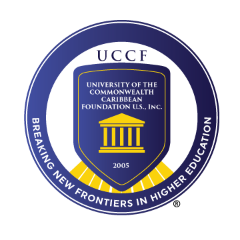 MISSION STATEMENT
The University of the Commonwealth Caribbean Foundation - U.S., Inc. (UCCF) will establish philanthropic relationships and investments to leverage the strengths of the University of the Commonwealth Caribbean (UCC) in creating a centre of educational excellence serving Jamaica and the Greater Caribbean by:
Identifying and building partnerships on the basis of shared commitment;

Developing programmes that reflect mutual interests;

Providing excellent stewardship of the philanthropic investments which will support the UCC;

Serve as the grant research, writing and administering agent for the UCC;

Ensuring the highest level of integrity and respect is afforded to all clients, community members and partnering institutions of the UCC.
EXECUTIVE CHANCELLOR'S MESSAGE

The University of the Commonwealth Caribbean Foundation (UCCF) represents a beacon of hope for students in need, with an abiding desire to build upon their inherent potential, whether by means of enhancing their education or their competencies.

Since 2007, the UCCF has worked with generous donors at home in Jamaica and abroad, to provide impactful scholarships to needy young people and to assist them in transforming their lives, while cumulatively beginning to contribute, over time, to Jamaica's economic development.

As you browse this Web Page, you will review heartfelt testimonials from a few of the students who benefitted from such scholarships. UCCF also recognizes and celebrates some of the donors who made it possible for such students to build bridges to a much brighter future.

The UCCF is registered in the United States of America as a 501 (c) (3) charitable corporation and is also registered as a Jamaican charitable organization under the Charities Act of Parliament.
---
UCCF MEET & GREET LUNCHEON
held February 21, 2017
...
---
PHILANTHROPY
Endowments
23 categories of scholarships with 271 Beneficiaries for
Total Disbursement of J$22,723,759.13 during the period 2012-2019
Outreach Activities (on-going) with UCC Scholarship Recipients


Has been re-established as announced at the recent Luncheon with UCCF Scholarship Recipients which was hosted by UCC's Executive Chancellor & Interim President, Professor Dennis Gayle.
The concept of the Praying Hands was generated by the UCCF Helping Hands Committee more than 2 years ago.
Members of the Helping Hands Committee are UCCF Scholarship recipients who will volunteer their time and effort with the goal of sharing with others at UCC.  Activities could include but not be limited to:

Assisting on UCC Sports Day
Ushering attendees at other UCC events
 

PHOTOS
April 28, 2017

 

...
Foundation Mondays


Being organized by UCCF helping Hands Committee
Baked goods for sale initially at Worthington Avenue Campus to assist other UCCF Scholarship recipients with lunch and bus fare.
---
UCCF BOARD MEETING
January 23, 2017
loading photos...
---
Visit by UCCF Scholarship Donor Mr. Bernard Benson
January 10, 2019
 
...