Library and Information Centre
The library is a platform for self development, a gateway to knowledge and a catalyst for the imagination."
- Tony Blair, Former British Prime Minister
Mission Statement
The mission of the UCC Library is to effectively provide staff, faculty and students of the University of the Commonwealth Caribbean with relevant resource materials for effective support of the institution's teaching, learning and research programmes.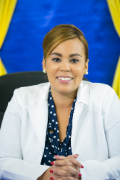 Librarian's Message
Our role is to ensure that all patrons receive the very best customer service possible.  It is important to us that your experience with the library be a rewarding and pleasant one; and we therefore strive to make this so.  We welcome your suggestions in terms of library materials and ideas so please do not hesitate to let us hear from you. Our team is always ready to serve you with a smile. We appreciate your support and thanks for using the services of the UCC library.
Library Opening Hours:
Mondays - Thursdays 7:30am-8:00pm / Extended to 10:00pm during exam period
Fridays: 8:30am - 4:30pm
Closed on Saturdays
Sundays: 9:00am - 4:30pm
Available resources at the UCC Library:
Books
Journals
Past Papers
Student Final Projects
Subject Guides/Pathfinders
CDs/DVDs
Databases
Electronic Resources
Free Resources
E-Books
E-Journals
BOOK DONATION
held October 30, 2018
...
Professors Dennis J. Gayle and Bernadette Warner handed over the book "Coral Reefs: Tourism, Conservation and Management" to the UCC Library & Information Centre. Both Gayle and Warner are contributing authors of the chapter titled: "Strategic Caribbean Coral Reef Tourism Management".
Contact Us
University of the Commonwealth Caribbean
Library & Information Centre
17 Worthington Avenue
Kingston 5
Email: asklibrary@ucc.edu.jm
906-3000