ALUMNI ASSOCIATION
UCCAA President's New Year's Message 2023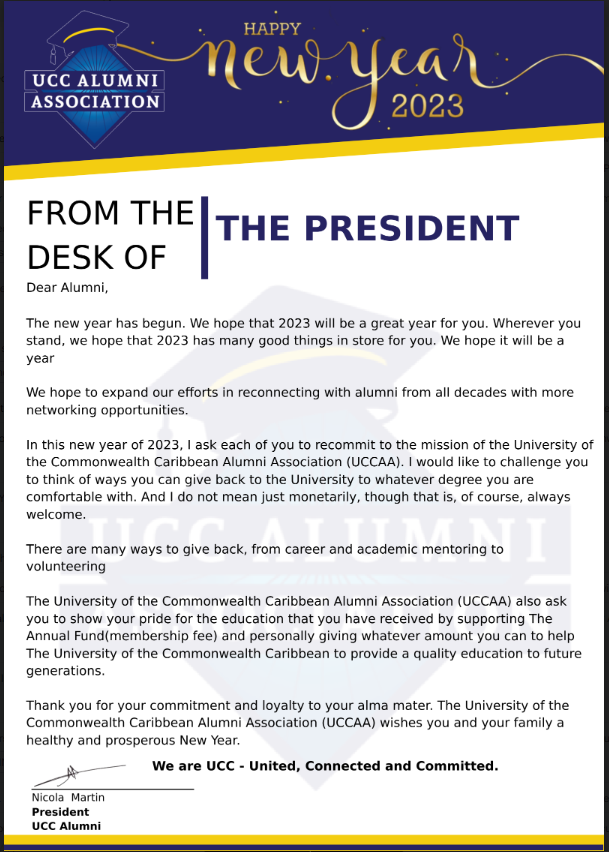 About UCCAA
For those who leave UCC, but for whom UCC never leaves, this is where you belong: the University of the Commonwealth Caribbean (UCC) Alumni Association.
Strengthen your UCC connection and help support activities for current students by becoming a member.

---
UCCAA Purpose and Vision
 
The mission of UCC Alumni Association is to foster a lifelong and worldwide network of alumni. This community will promote the interests, welfare and mission of the University of the Commonwealth Caribbean (UCC). The UCCAA will work in a spirit of partnership with the UCC to:
Keep the alumni aware of the programmes and activities of the institution

Provide support to the UCC and its initiatives

Develop alumni programmes that will serve to unite past and current students in a series of mutually beneficial partnerships such as mentorship, community outreach and internship opportunities; and

Assist UCC in the development of its academic, co-curricular, administrative and cultural capabilities.
---
Meet the UCC Alumni Association Executives



Support Our Goals for Fellow & Prospective Alumni
Apart from our Alumni Association Office, which is a unit within the institution's organizational structure, there are committees within the Association such as: mentorship, fundraising, library, internship and foundations each of which provides an avenue for alumnus to service our 'alma mater'. These are key groups, which are also committed to providing you with networking support for personal, professional and business development; as well as opportunities to remain connected to our 'alma mater'. We recommend that you join the Association and or a Special Interest Group, and offer your creative and innovate ideas through membership.

---