UCC's 7th Annual Research Conference Presents
The AI Prompt Engineering Workshop: Unleashing the Power of Large Language Models
AI Revolution: Mastery in Prompt Engineering—Elevate Your Corporate Learning to New Heights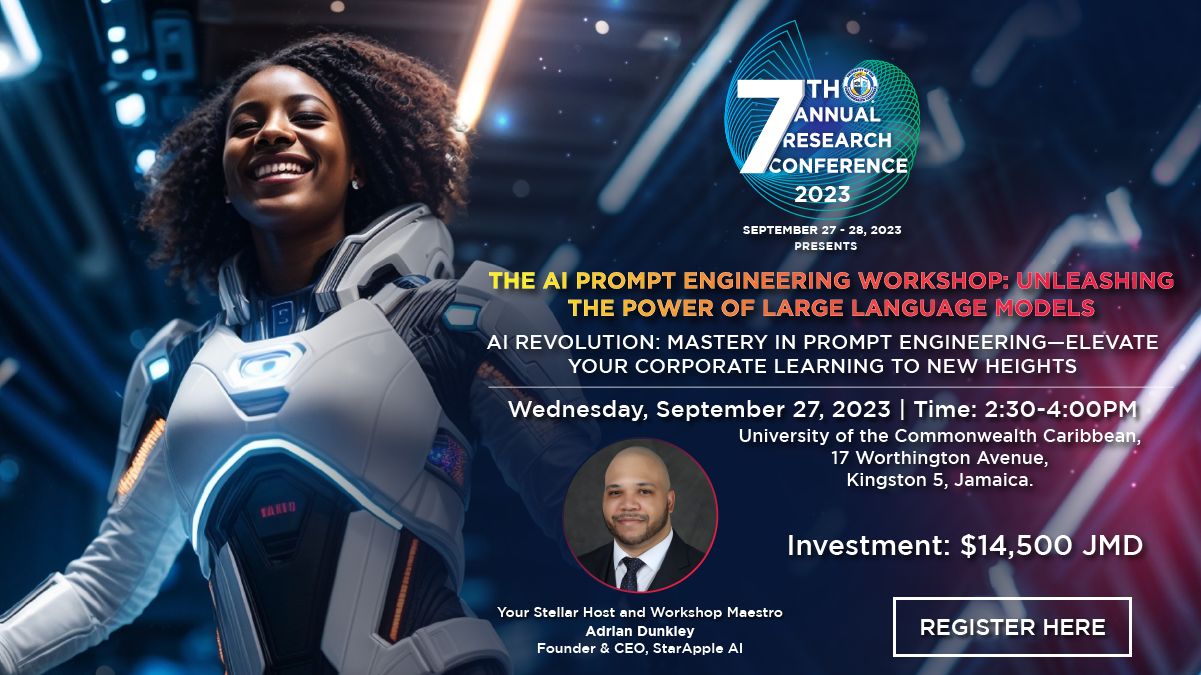 Event Details:
Date: Wednesday, September 27, 2023
Time: 2:30 PM - 4:00 PM (90 Minutes of Uninterrupted Innovation)
Location: UCC, 5 Worthington Avenue, Kingston 5
Investment: $14,500 JMD —Unbeatable Value for 1.5 Hours of Intensive Learning
Your Stellar Host and Workshop Maestro:
Adrian Dunkley, The AI Boss
Adrian Dunkley is not just another expert—he's a 15-year luminary in the Artificial Intelligence sphere.
Founder of StarApple AI, Jamaica's first AI company.
Esteemed Member of the Forbes Technology Council
President of the Jamaica Technology and Digital Alliance.
His groundbreaking work extends to hundreds of AI systems, transforming the ecosystem of small and large enterprises alike.
Over the past two years, he's focused on revolutionizing corporate workflows, fueling productivity, and unshackling creativity through AI Prompting.
His audacious mission? To catapult Jamaican businesses to unprecedented profitability, making them the envy of the global marketplace.
Your High-Value Takeaways:
 Blockchain-Verified Digital Certificate of Mastery: Upon conquering the Prompt Challenge, showcase your certified expertise in Prompt Engineering to the world. A digital badge that's more than just pixels—it's proof of your mastery.
Why This Course is Unmissable
This isn't just another workshop; it's a transformative 90-minute journey curated for forward-thinking HR professionals and AI enthusiasts. Expect to:
Go Beyond Basics: Elevate your understanding and application of state-of-the-art language models like ChatGPT, DALL-E 2, and BARD.
Ethical Excellence: Get the insider's look into creating ethically conscious AI applications. Learn the rules so you can break them responsibly.
Design Thinking Unleashed: Translate raw AI power into tailored solutions. Employ design thinking to solve the unsolvable.
Real-world Relevance: Translate theoretical wisdom into actionable insights. Take on real-world challenges with newfound confidence and creativity.
 
Course Outline: A Sneak Peek into Your 90-Minute Ascension
Introduction to Large Language Models: Meet your AI-driven companions—ChatGPT, DALL-E 2, and others.
The Art of Prompt Engineering: From fundamentals to finesse—become the artist you were meant to be.
Ethical AI: Navigate the Labyrinth: Ethics aren't an option; they're a responsibility.
Design Thinking in AI: Translate human-centric thinking into AI applications.
The Prompt Challenge: Your proving ground. Face a real-world challenge and solve it with your newfound skills.
Don't miss this once-in-a-lifetime opportunity to amplify your AI prowess under the expert guidance of an industry luminary. Secure your seat now for an experience that promises not just to inform, but to transform!
Limited Seats Available—Early Registration Strongly Recommended.
For bulk corporate bookings, please contact us directly for special rates.
Questions? Contact us at uccarc@ucc.edu.jm
Your future in AI Prompt Engineering starts here. Will you seize it?